I have something of importance, I would like to share with everyone. I was contacted by a local pet shelter in Los Angeles with a pygora goat.  I would love to take him however the cost of shipping him here is not within my budget. So If anyone knows of a fiber farm that takes rescues in the area please contact The north central animal care and control center at (888) 452-7381. Here is their web link as well and you can find a picture of this gorgeous animal here.  http://www.petharbor.com/pet.asp?uaid=LACT4.A1258879
In other news I finished my moebius cowl. The pattern is already available in the etsy store and will be available here soon.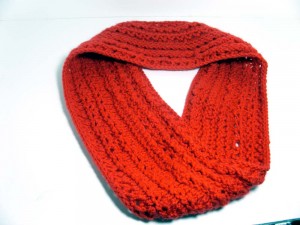 A few more items available in the Etsy Outlet.
These are 2-ply recycled silk. Why is an animal rescue offering recycled silk you say? 
The answer is because my wonderful friend Nicole at Darn Good Yarn helps to employ impoverished women in India and Nepal, by buying recycled silk that they spin. I love it when we fiber people can help out other people or animals.  Anyway, you can imagine some of the newer spinners "over spin" the fiber. So I did an experiment with the over spun fiber and plied 2 overspun singles together to make a more balanced yarn and this is the result. Nice bulky, smooth,and colorful 2-ply silk yarn.
The animals had a great time eating all the vegies when I cleaned out the fridge they had a salad of watercress,basil, cilantro, carrots, apples, and other greens. Here they are after gorging today.