Deyaneria on March 10th, 2014
I have been teaching at adult ed again. Classes are smaller this year but we still have a great time.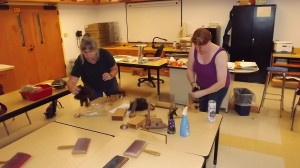 Here are 2 new patterns that are going into the shop today.
The Fuzzy Silk Scarf (with wooden bead accents/buttons) is a simple reversible pattern that can be worn many ways including as a moebius.
The Luxury Cashmere/Silk Cowl is a lacy but textured sweet knit. A great pattern for that small skein of luxury yarn.
Fiber Fanatic Files
Sign up for the Fiber Fanatic Files !!!! It's Free and You get FREE SHIPPING off your first order. For peace of mind we never let your email information out any other party.
Tags: cashmere goat fiber, cashmere yarn, fiber animal products, hand dyed yarn, knitting, knitting patterns, knitting projects, knitting yarn