My dear friend Medora invited me on a day trip to Ellsworth, Me. It was Medora , Mr. Medora and another mutual friend. I was just looking forward to  lovely day with people I adore.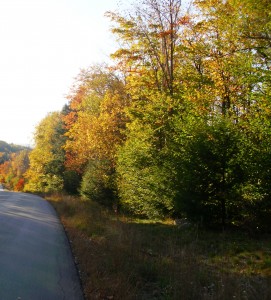 We  left around 8am Saturday morning. Unfortunately, the night before as I was heading to bed I tripped over the dogs bone and broke my toe. So our first stop was Rite-Aid for tape and ibuprofen.  We took the scenic route enjoying the trees and flora as well as some fauna the turkeys were out in force.
We had a lovely lunch at Cleonice Mediterranean Bistro. It was a lovely 1930s-vintage space at 112 Main Street that was fitted out with art deco fixtures, dark mahogany paneling and booths, and a beautiful tapas bar.  I'm so glad they didn't try to modernize it as the decor was perfect. You could picture a couple 1930's detectives having lunch.
They were very accommodating to different diets as we had a vegetarian and vegan in our group. I had a vegetarian Reuben (they use beets for corned beef) and roasted potatoes, with mint tea. Delicious!
After a wonderful lunch we headed over to Beads, Baubles and Fleece Downeast over at the Ramada Inn.   As this was only their 3rd year I hadn't heard about this event yet but here is a list of the vendors from this year
.Christina Heiniger • Fern House Studio: Beads of all sorts, vintage buttons, pearls, felt change purses, earrings and bracelets, felted ornaments and other surprises.
Obadiah Buell • Bourne Designs: Maine Stone and glass beads, buttons, jewelry…and more.
Christine Leith • Eggemoggin Textile Studio: Handwovens, handspun yarns, roving, shibori scarves… plus more.
Hatie Clingerman • Downeast Fiber Farm: Roving, handspun yarns, felted toys, wraps and shawls plus goat's milk soap.
Mary Eaton • Dream Weaver: Handwoven scarves, hats, jewelry and beaded vases.
Suzanne Anderson • Yikes! Studio: Polymer clay and silver jewelry, beads and buttons, all handmade.
Kim S. Dunn • Bennett's Gems & Jewelry: Gemstone beads, findings and tools, finished bead jewelry.
Sihaya Hopkins • Blossom Studio: Handmade glass beads, buttons & Jewelry (lampwork glass).
Elizabeth Hunter • Chameleon Fiberworks: Yarns and finished fiber work.
Rose Whitehead • Fiber Fabrications: Woven & felted apparel and accessories.
Lynn Walkiewicz • Riverdog Design: Handwovens & knitted items (dishtowels, vests, jackets & gloves).
Doris Walsh • Handspun & Lace: Handknits, handspun yarn & roving.
Emily Delfin • Reflections Jewelry: 14kt Gold filled and Silver wire wrapped crystal and gemstone jewelry.
Lisa Salsbury • Willow & Me Jewelry: Fine Silver, bronze and copper jewelry and handmade buttons.
Penny Walls • Winter Wind Designs: Balsam pillows, fabric buttons, knit hats, booties & scarves, roving, beads and finished jewelry.
Lucy Rogers • Hilltop Handspun: Handspun and hand dyed Maine fiber yarn.
William S. Dodge • Frenchman's Bay Seaglass Creations: High end seaglass jewelry as well as mobiles.
Janelle Delicata • Everyday Jewelry & wearable art.
Diane Allen • Pearl La La Jewelry: Beaded jewelry, beads and pearls.
Julie Jones • Elementals: Handspun art yarn, felted bowls, fiber jewelry and felted rocks.
Jackie Haines • Blue Leaf Designs: Intricately beaded jewelry, assortment of beads, beading supplies and cabochons.
Susan Barrett Merrill • Weaving a Life: Beading & Weaving looms, handwoven jewelry and pendants plus beads in strands.
Margaret Hagopian-Slack • Down East Jewelry Creations: Handmade jewelry & Pendants plus beads in strands.
Tina Beachy • Silver Reflections: Lampwork glass beads, buttons, beadcaps & headpins.
Barbara S. Fernald Jewelry: PMC and beaded jewelry, assorted handmade & commercial beads.
Johanna Bierwirth • Butterfly Beads: a large selection of beads, supplies and some finished jewelry.
Audra Christie • AUD Art: Felt ball beads, fiber art and wall hangings, felted items.
Leslie Jones • Tangled Web Designs: Beaded jewelry & handspun yarn.
Jenny King • Vintage, glass and other assorted beads, finished jewelry.
Michelle Souza & Patricia Savoie • Spruce & Gussy: Yarn, felting and spinning fiber and finished fiber products (including felted handbags).
Josette McWilliams • Enchanted Knoll: Fibers, hand dyed yarn, knits and wearables.
Arnelle J. Meyer • A. M. Atlantis Rising: Gemstone and Beaded Jewelry and loose beads.
Jennifer Miller • Undercover Concepts: Beads, Fabric finished pieces (quilts and accessories).
Kathy Gearhart • 5 Fireflies: Hand knit and crochet items: hats, scarves & purses…unique original designs.
Jodi Clayton • One Lupine Fiber Arts: Felted accessories plus yarn, roving, notions, needles and buttons.
Julia Ventresco • One Woman Studio: Upcycled bags, purses, accessories, and other goodies.
John & Ginny Hackney • John & Ginny Beads: Lampwork glass beads and jewelry.
Linden O'Ryan • Linden O'Ryan Gallery: Felted balls, batik scarves, cards and artwork.
Barbara Fleming • Silverdust Is…: Kumi and polyclay jewelry and beads.
Maggi Hinsey Blue • Magpie Creative: Slumped glass pendants and jewelry in a rainbow of colors.
Kathleen Mailman • Sticks 'n Stones Bead Shop: Large selection of beads including glass, pearls, gems, resin and many more commercial beads from Brewer's fabulous Bead Shop.
Amanda Hoel-Green • The Purple Porpoise: Handcrafted Jewelry            (Information on vendors from The Gifted Hand )
So we were able to find great food and the venue more to come on Wednesday.
PS. check out my etsy store and tell me what you would like to see