Ramie (Boehmeria nivea) is a flowering plant in the nettle family Urticaceae, native to eastern Asia.  The true ramie or China Grass also called Chinese plant or white ramie is the Chinese cultivated plant. A second type, is known as green ramie or rhea and is believed to have originated in the Malay Peninsula.
Ramie has been around for so long that it was even used in mummy cloths in Egypt during the period 5000–3300 BC and has been grown in China for many centuries. In the study of the "Lazarus" mummy, three types of textiles were found. The outermost cloth was heavy and coarsely woven; the innermost was the lightest and most tightly woven. The outer cloth appeared to be ramie (which Wiseman notes "contains non-fibrous material that is toxic to bacteria and fungi"—in other words, an ideal textile for mummymaking). Farmers in ancient China are also known to have used the fiber to weave clothing.
Ramie was used to produce an open weave fabric called mechera, used for shirts and dressing gowns suitable for warm climates. Brazil began production in the late 1930s with production peaking in 1971. Since then, production has steadily declined as a result of competition with alternative crops, such as soybeans and the important synthetic fibers.
Ramie is one of the strongest natural fibers. It exhibits even greater strength when wet. Ramie fiber is known especially for its ability to hold shape, reduce wrinkling, and introduce a silky lustre to the fabric appearance. It is not as durable as other fibers, and so is usually used as a blend with other fibers such as cotton or wool. It is similar to flax in absorbency, density and microscopic appearance. However it will not dye as well as cotton. Ramie can be still and brittle and lacks elasticity. It will break with repeat folding in the same place.
Despite its strength, ramie has had limited acceptance for textile use. The fiber's extraction and cleaning are expensive, chiefly because of the several steps—involving scraping, pounding, heating, washing, or exposure to chemicals. Some or all are needed to separate the raw fiber from the adhesive gums or resins in which it is ensheathed. Spinning the fiber is made difficult by its brittle quality and low elasticity; and weaving is complicated by the hairy surface of the yarn, resulting from lack of cohesion between the fibers. The greater utilization of ramie depends upon the development of improved processing methods. So far it seems to be a pretty green fiber.
Ramie is used to make such products as industrial sewing thread, packing materials, fishing nets, and filter cloths. It is also made into fabrics for household furnishings (upholstery, canvas) and clothing, frequently in blends with other textile fibers (for instance when used in admixture with wool, shrinkage is reported to be greatly reduced when compared with pure wool.) Shorter fibers and waste are used in paper manufacture.
For the 2010 Prius, Toyota began using a new range of plant-derived ecological bioplastics made from the cellulose in wood or grass instead of petroleum. One of the two principal crops used is ramie.
Ramie is also used as an ornamental plant in eastern Asia.
Here is some undyed ramie fiber. I wonder if it will take well with my direct dyes?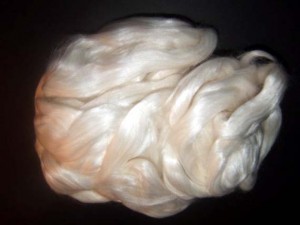 Sign up for a weekly newsletter and get the scoop on what is up and coming in the store, healthy recipes and more.
Tags: animal rescue, animals rescue maine, fiber processing, ramie spinning fiber, spinning ramie, vegan spinning fiber, vegan spinning wool, vegetarian spinning fibers