I have 4 goats on the farm now. I received them along with my dear Lorenzo I wrote about in last weeks newsletter. They are all female. They produe cashmere. Cashmere goats in the U.S. are quiet large but my ladies are little, they also seem to have the markings of Nigerian dwarf goats. I usually don't get too much history on my rescues so I have to figure these things out on my own.  I did find out that when the previous owner received these goats at 8 months, she was surprised to find her goats giving  birth at Christmas time.  I received all 4 the next April. They were not very socialized to people but some treats and petting later their personalities really came out.
Anyway on to the girls: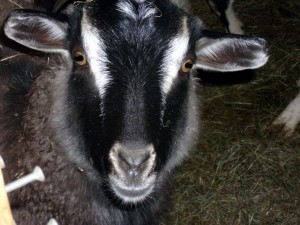 Gabby is the loudest and most boisterous goat we have. She is a bit of a hoover vacuum cleaner and will butt others out of the way to get to the food.  Gabby is very vocal and almost seems to talk to you. She is also the fattest<smile>.  She has a very gentle nature with the babies even not her own. I saw her playing with her sister's baby who is smaller than all of them. They were head butting but you could tell she was being very gentle with this delicate baby a very sweet moment to watch.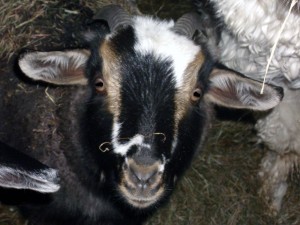 Maddy is Gabby's daughter. She's very much like her mother but is a more gentle about food. Maddy is very vocal and likes her humans to pet her and talk to her.  She is the first one to come running outside if she hears us coming toward the barn.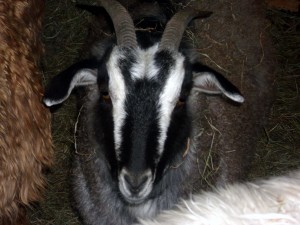 Sassy is just as her name says a goat with a side of attitude. She isn't quite as friendly as the other two, she kinda hangs back and waits for an opening.  She seems to like toying with Francois. Sassy will pretend to charge him and he will run away and cry. I think she finds this really amusing because she hasn't stopped yet.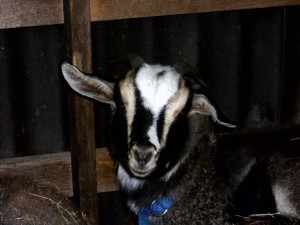 Serena is the quiet one. She is rarely vocal maybe because the others are so loud. She is the first one who will back off and  stand back when food is offered. I sometimes hand feed her to make sure she gets enough grain as she will not join the jostle for food. She can be a bit standoffish and is very cautious of people. We have been earning her trust. She has a sweet personality that we hope will soon shine.
On another note I a starting a video tutorial from Llama to scarf or wrap (it will depend on how my fiber I have after processing). The first part, Skirting a Fleece, will be up for everyone to view tomorrow.  The rest of the series will only be available those who subscribe to the our weekly newsletter. Sign up!
Tags: animal rescue, animals rescue maine, cashmere goat fiber, cashmere goat fur, cashmere goats, cashmere yarn, fiber goats, raising fiber animals, roving wool, spinning fleece, wool for sale, wool processing