I thought it would be nice to do a series on they types of fiber animals that I have here on the farm. Today I'm going to talk about alpaca care.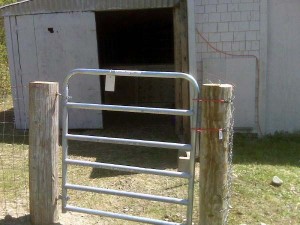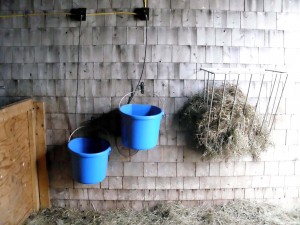 Day to day care consists of 2 feedings and waterings a day.  They get a cup of grain in the morning(1.5cups in the winter) and all the hay they can eat. For a human sized animal (about 15opds) they eat very little grain.  I've found that when I give them more they become a bit too fat. Some farms don't even give alpacas grain but I want really nice coats so I use it. I haven't tested my barn well yet so we trek water from the house to the barn. The heated water buckets in the winter really help.  I have wonderful supplier of timothy hay. In the summer they are able to graze in the pasture as well.
   Housing an alpaca doesn't have to be elaborate. I'm lucky enough to have a barn but I've seen many people just use 3 wall shelters for them. I bed down the stalls with hay and muck them out twice a week.  I also use  a  mixture of half lime and half Sweet PDZ to keep the barns smelling fresh when I muck them out. I noticed it seemed to keep the flies down during the summer as well.
One thing I have to be careful of in my area of the country is deer. I live in the woods and deer run right around my house and yard. Deer carry menegial worm while not deadly to the deer it is usually to an alpaca. One of my first rescues was an alpaca that had been hit by this parasite. The damage that it causes cannot be fixed  as it affects the spinal nerves.  For a long time we all could not leave the farm at once because if he fell or layed down he could not get up. The prevention for this is a shot of ivermectin every month. I make sure my alpacas get their shots. I hate doing it and it makes me nervous but it's definitely worth it.  Depending on your area there may be other parasites that can attack alpacas. It's always good to check with your local vet if your unsure.
Other alpaca care of course is the shearing the fiber( oooohhh the fiber). Usually  the alpacas are restrained and sheared with sheep clippers. I heard of people using shears(i wouldn't want to do that because they don't like to be restrained). I think that would take a long time. During shearing or more often depending on the alpaca, the toenails get clipped. Alpacas have a soft foot with a toenail instead of a hoof. Sometimes an overbite or underbite can cause a problem so I have the teeth ground down. I have the vet do this although many alpaca farmers will do it themselves.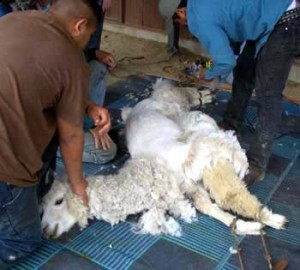 Tags: alpaca care, alpaca clipping, alpaca fiber, alpaca housing, animal rescue, animals rescue maine, huacaya, raising fiber animals, suri