Deyaneria on October 21st, 2013
That is what I am going to call this sweater – The I think I lost my Marbles Sweater. After I finished the writing up the pattern I got started immediately. Cast on 262 stitches loosely (putting a marker at 131 stitches)  and joined in the round adding a second marker…..I know it doesn't need to be said that I made sure that I didn't twist the join. I had to add 2 extra stitches for the ribbing due to a 2 by 2 rib didn't work with 262 stitches but I just added them during the first round of ribbing no worries there. I worked 13 rows or 2 inches of ribbing and switched to stockinette stitch ( during the first row which normally would have been knit regular I decreased the 2 extra stitches).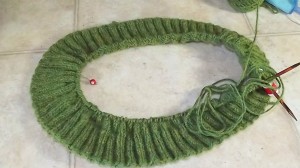 Now I am working the hip to waist shaping taking our 4 stitches every other round 13 times. I'm taking two stitches off the front and 2 off the back. Oh I forgot to add that is sweater will be about 24 inches in length when I am finished which should have it hit the mid-hip mark.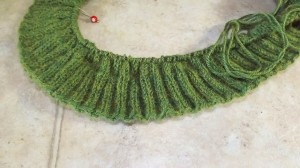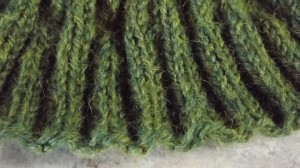 I love the color of this yarn!!!!!
Fiber Fanatic Files
Sign up for the Fiber Fanatic Files !!!! It's Free and You get FREE SHIPPING off your first order. For peace of mind we never let your email information out any other party.
Tags: custom fit sweater, custom vanilla sweater, I've lost my marbles sweater, knitting, knitting blog, knitting good sweaters, knitting patterns, knitting projects, knitting sweater, knitting yarn, sweater pattern