I've made some real progress on this cardigan. The body is done and the sleeves are going on. I decided to knit on the sleeves instead of knitting 2 separate sleeves and sewing them.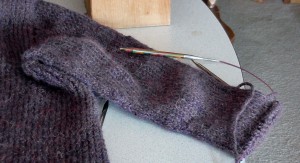 I can't wait for this one to get finished so I can wear it.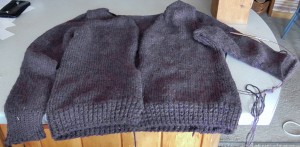 The Yarn and Fiber Sale is still in effect. Get last years colorways at 30% off using code COLORSALE  at checkout.
[madmimi id=3]
Tags: fiber animal products, knitting, knitting blog, knitting patterns, knitting projects, recycled silk yarn for sale, roving wool, wool for spinning yarn, yarn for sale