I have been teaching at adult ed again. Classes are smaller this year but we still have a great time.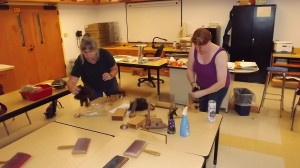 Here are 2 new patterns that are going into the shop today.
The Fuzzy Silk Scarf (with wooden bead accents/buttons) is a simple reversible pattern that can be worn many ways including as a moebius.
The Luxury Cashmere/Silk Cowl is a lacy but textured sweet knit. A great pattern for that small skein of luxury yarn.
[madmimi id=3]
Tags: cashmere goat fiber, cashmere yarn, fiber animal products, hand dyed yarn, knitting, knitting patterns, knitting projects, knitting yarn