Well I've been knitting away on my Marbles sweater. It seems that with the new gauge it just might work!!!! I'm carefully hopeful after so much sweater catastrophe in my past. Those of you who are newbies here can check out this post to see all the sweaters that went bad.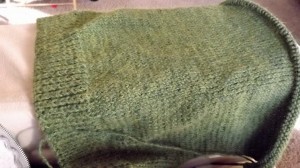 In other news I have a new hat pattern up for sale on the site. The texture of this pattern and the colors remind me of Autumn here in Maine cool enough to need a little something but not too cold. I've also made this one in two sizes one for the kiddos and the other for adults.
You can find the new pattern here. I'm also selling this as a kit!
[madmimi id=3]
Tags: knitting, knitting pattern, knitting pattern for sale, knitting patterns, knitting project