I've decided to knit another sweater. I am cautiously hopeful as my luck with sweaters has been……..really crappy!  This humiliation only seems to happen with sweaters I make for myself. Sweaters for other people seem to come out just fine ….with the exception of the hubs first sweater …..I do not take responsibility for bad knitting there because he insisted I finish it even though I knew it needed to be frogged. Here are my past sweater indignities.
Sweater One: Alexandra Ballerina Top from Fitted Knits by Stephanie Japel, Knit in Lion Brand Landscapes a bulky yarn. The sweater was suppose to fit the bust but the front pulled up and the back fell down which gave it a strange angled look…….. And well……. bulky yarn just looked kinda bulky….Probably not the best look for a girl who is thick through the middle. I frogged it. This one was so long ago I don't even think I took a picture. Jan 2010-ish I think. I still believe this is  a GORGEOUS sweater. It's just not the right sweater for me.
Sweater 2: Ruched Yoke Tee by AnneLena Mattison in Interweave Knits spring 2011 edition. I had to change this sweater by adding short rows to make room for "the girls." However although the sweater came out very nice the fit was still wrong and it looked well rather short ….I used the bust size required and added 3 inches with short rows but my shoulders were too small for the sweater.  It was too short for my daughter as she is long-waisted but she definitely looked better in it than I did. Therefore it became yarn again.
Sweater 3: Lia by Mandie Harrington I thought this sweater was cute, quick not so bulky and would help hide a multitude of sins.  The ribbing would make for an easy fit. So I jumped in and cast on for my size. My poor deluded self after I finished the top sans sleeves and tried it on. It looked like "the girls" were trying to rip the ribbing apart even though the sweater felt very loose and clung to every lump, bump and curve.  Cute Sweater just not for me……it became yarn.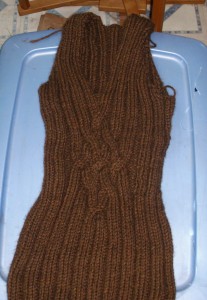 Sweater 4: I took the Fitted Knits class on craftsy, created my own pattern with raglan sleeves for simplicity. Made sure to add 3 inches of short rows for "the girls." I even created a duct tape mannequin for ease of fitting. I was psyched to create this sweater and absolutely crazy about the yarn. I loved this sweater….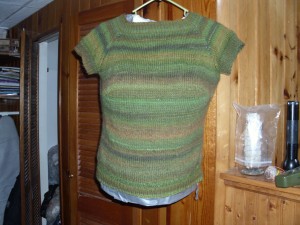 Until I saw this….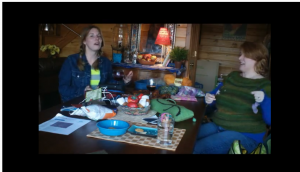 Ok…… so maybe not the best neckline, and yarn choice and sleeve type ……for my body type.  I'm hoping a revised sweater with a v-neckline and set in sleeves might look a ton better.  The above sweater has not been frogged but it also hasn't been worn since the video.
Everyone have a happy New Years Eve!!!!! I'm off to make some cherry filled red velvet cupcakes the hubs asked for.
P.S. If you would like to be notified whenever there is awesomely fibery update here click the RSS feed!
Tags: knitting, knitting bad sweaters, knitting good sweaters, knitting patterns, knitting projects, knitting sweater, knitting yarn, yarn