A Herdwick's grey fleece is not easily dyed, and is coarse, and so is best suited to use as carpet wool. This Fleece seems to shed water and dry quicker than most wool. The kemp can be separated from the wool to create a softer hand.
The staple length is about 4 inches on mine. I have seen that it can be 3-10 inches. I found the fiber to coarse, kempy, slightly crisp, but also a bit slippery. It had an undeniable prickle as I wrapped the roving around my neck.  I would say this was definitely in the mid 30's micron count.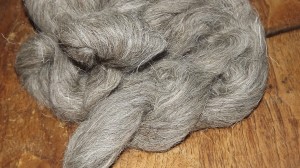 I didn't wish to dye this roving as the tweedy texture is beautiful to look at.
Remember to check out the Store for Small Biz Saturday Specials!!!!!!
Tags: animal rescue, animals rescue maine, fiber animal products, fiber animals, herdwick sheep, meat sheep, raising fiber animals, sheep wool, sheep wool breeds, spinning fiber roving, spinning fleece, spinning wool by hand, wool for felting, wool for spinning, wool for spinning yarn, wool processing