I've been crazy busy dyeing up new fibers for the store launch. I'm  having a designer tweaking the store theme to get it how I want it. Honestly I didn't want to play with code.  I really don't have the time or patience for it.
Here are some process pictures of me dyeing up the pulled silk yarn.
I have to soak the  pulled silk yarn overnight to get it ready for dyeing and with so many skeins I had to get creative of what to soak them in.
The kitchen is my mixing area.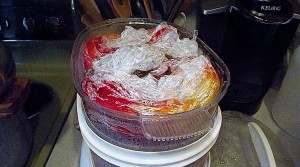 I prefer to steam dye the silk it takes the color much better. I have 4 steamers and can do up to 12 skeins at a time this way.
With gloves on and color changes I forgot to take a pic mid dyeing on the skeins but I hope you enjoyed a look into how I steam dye yarn.
Get your fiber fix, sign up for the Fiber Fanatic Files delivered bi-weekly to your inbox.