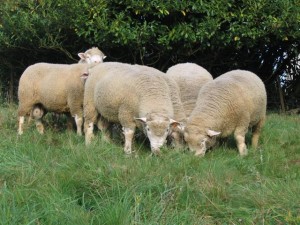 Ile de France sheep sprout a dense, refined fleece that has a high grease content. An average fleece weighs 8-13 pds.  The wool itself, has a well defined crimp. The staple length is about 2-4 inches. My Sample is actually longer than that between 4-5 inches.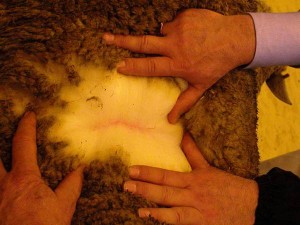 Because of the merino bloodline this breed has a most notable fleece that I feel is being overlooked. I did the"bra test"with this fiber and found it to have a slight prickle , I wouldn't make racy, unmentionables out of it, but I would make scarves, mitts , socks etc. The micron count is said to be from 24-29 which puts it in the medium range. Here is my Ile de France Fleece:
I am going to dye this gorgeous stuff. You will see it in color at the end of the week.
I couldn't resist this last pic of this gorgeous ewe with her triplets!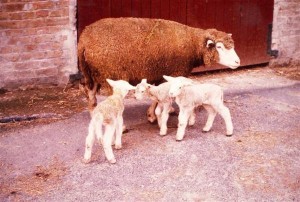 Information  from http://www.ile-de-france-sheep.com/presentation-en.html  , http://en.wikipedia.org/wiki/%C3%8Ele-de-France_(sheep), and http://showcase.netins.net/web/sam/ccidf.htm#TOC.
All pictures from http://www.ile-de-france-sheep.com/presentation-en.html  (unless stated otherwise)  with picture credits going to the the following: D.Chenot, CIV L.Rouvrais, P.Del Porto, J.Diependaele, Giraud, C.Pignot, Sopexa, Upra Ile de France, E.Wagner, D.R ,X.
 Sign up for the Fiber Fanatic Files for your scandalous woolly updates!