As I had mentioned before Outaouais Arcott is one of 3 candadian arcott breeds.  There is the canadian arcott and the rideau arcott. all three have similar beginnings. However there are differences between the breeds.
The Canadian Arcott is heavier meat sheep with meduim wool.  The base 2 breeds for creating this breed were suffolk and Ile de France. The rams from this breed are often used to create a meatier sheep.(information from http://sheepbreeders.ca/breed_profiles/canadian_arcott.html)
The Rideau Arcott is a super heavy duty lambing and milking machine. The original genetics came from the Finnish Landrace, Suffolk and East Friesian breeds. This is a maternal breed and they do require extra feed and care due to the prolific fertility. You wouldn't have believed how hard it was to find pictures of these breeds.
(information from http://sheepbreeders.ca/breed_profiles/arcott_rideau.html)
And now what you have been waiting for the Fiber!
I really like this fiber it is medium soft to me meaning it had some prickles when put next to the neck. It is called a variable fleece. The crimp is amazing! Slighly crispy , and bouncy with long staple.
This wool dyes up wonderfully. It was  rainy day when I took pics so not the usually bright pics I can get. Still on the drying racks.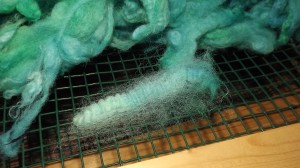 P.S. If you would like to be clued-up whenever there is awesomely fibery update here click the RSS feed!