I really dig my Bfl. It is soft and squishy with a hint a crispiness. I got two different preparations to play with: top, and washed fleece.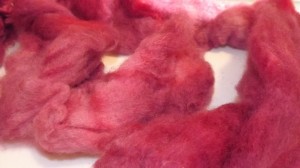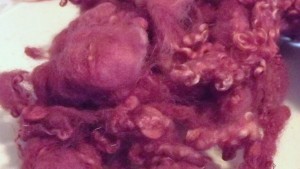 It dyes up beautifully. I used cushing's acid dyes in wine. I loooove this color.
I know I didn't post on Wednesday and that normally would make me a bad blogger. However ,it wasn't out of me wanting to sit in pj's all day( i could do that anyway and you would never know). I am preparing for surgery next Wednesday and had my B-day this week. Happy 39th to me. I am also debuting a few new lines of spinning fiber in a few weeks. Here is a small sampling will be going to Sister X Two in Dover-Foxcroft, ME. Here are some of the lovely batts.
Here is the next Butterfly collection series going into the store due to popular demand I will be creating all my batts and rovings in 4 oz increments.
No I don't have this many pillows, but I do have 37 fleeces to wash and the pillow cases were an amazing 50 cents each. How is that for fleece storage?
Don't forget to check out the newsletter. Have a great weekend!