I found an interesting spindle whorl. I was told it was from Africa. It seems to be made from clay. I found a knitting needle worked well for the shaft. I did do a little spinning on it. I used it as a bottom whorl.
I also found this cute prosperity frog.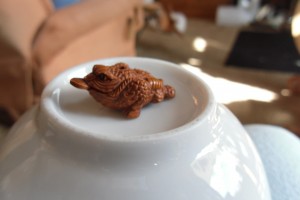 As I moved around the talking to vendors and getting to know people. I realized I was being paged(not over a loudspeaker or anything). Medora had a dear friend she wanted me to meet. That is how I met  Susan Barrett Merrill. She is probably one of the most interesting people that I have met in a long time.  The best way to describe her is that she lives completely in the moment with you. She has a beautiful childlike exuberance that is tempered with wisdom. I love her woven masks.
I was able to get wonderful picture of Medora and Susan with their husbands.
Susan has also written a book. I will soon be reading it.To find out more about Susan, her book,  her weavings, and life coaching classes you can find her here.