I've seen two types of banana fiber one was a yarn my friend had ordered and crocheted up. It felt very coarse and a bit harsh on the hands. The fiber that I ordered is very smooth and shiny.
The processes for making yarn from banana fibers vary from region to region. Most popular methods among these are those followed in Japan and Nepal.
Japanese Method
The cultivation of banana for clothing and other household use in Japan dates back to the 13th century. In the Japanese method of making banana fiber, the care is taken right from the stage of plant cultivation. The leaves and shoots of the banana plant are pruned periodically to ensure their softness. The harvested shoots are first boiled in lye to prepare the fibers for making the yarn. These banana shoots give away fibers having varying degrees of softness. The banana cloth making process is a lengthy one and all the steps are performed by hand.
Nepalese Method
In Nepal, the trunk of the banana plant is harvested instead of the shoots. Small pieces of these trunks are put through a softening process for mechanical extraction of the fibers, and then bleaching, and drying. The fiber obtained thus has appearance similar to silk which has become popular as banana silk fiber yarn. This fiber is refined, processed and skeined mostly by the Nepalese women. Only the aged bark or the decaying outer layers of the banana plant are harvested and soaked in water to quicken the natural process. When all the chlorophyll is dissolved, only the cellulose fibers remain. They are extruded into pulp so that they may become suitable for spinning into yarn. The yarn is then hand- dyed. They have high textural quality similar to silk and as such employed in making high end rugs. These traditional rugs are woven by hand-knotted methods again by the women of Nepal.
Characteristics of Banana Fiber
Banana fiber is a natural bast fiber. It has its own physical and chemical characteristics and many other properties that make it a fine quality fiber.
Appearance of banana fiber is similar to that of bamboo fiber and ramie fiber.

The chemical composition of banana fiber is cellulose, hemicellulose, and lignin.

It is highly strong fiber.

It has smaller elongation.

It has somewhat shiny appearance depending upon the extraction & spinning process.

It is light weight.

It has strong moisture absorption quality. It absorbs as well as releases moisture very fast.

It is bio- degradable and has no negative effect on environment and thus can be categorized as eco-friendly fiber.

It can be spun through almost all the methods of spinning including ring spinning, open-end spinning, bast fiber spinning, and semi-worsted spinning among others.
I read on the internet somewhere to dye banana fiber with acid dyes. I thought this  bit odd as banana is a plant fiber but decided to try both acid dyes and direct dyes from Cushing's using the same color turquoise. The first pic is using direct dyes, the second I used acid dyes (as you can see the acid dyes only tinted it slightly).
 Here it is all spun up.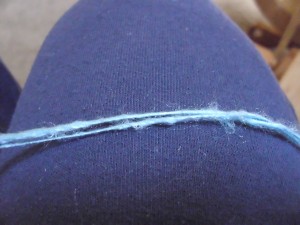 As you can see this preparation of fiber spun up a bit hairy. It was pretty easy to spin and unbelievably strong. I think a top preparation would spin more dense and shiny.