The animals are doing well Baxter is healing from his self-inflicted injury. It's time to shear the bunnies again. I ordered in new clippers to make the job easier( in fact as I was writing this UPS showed up with the clippers)…Guess what I'm doing this weekend, I'll give you a hint it has to do with angora.  I had so many meetings this week I got very little done. I have done some work on my sweater. Last night I realized I had messed up 3 rows and am in the slow process of tinking them out to redo them (my own fault really I just couldn't seem to follow directions). That's what I get for trying to get a few rows in when I was too tired.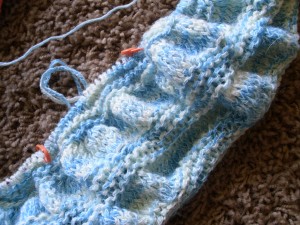 I did get a bit of spinning done this week. I finally finished up my Green Mess as I called it. This was some ugly fiber, when I got it. It was dyed baby poop yellow with a brown streak thru it. I overdyed in greens and blues. It became a gem.
 I also finished spinning up some Blue Bunny Fiber.
The angora will be going into the store as soon as it has dried from the quick wash after spinning.
Cheered on by all this spinning progress I decided to spin up some stash I'd been holding onto for awhile.
The fiber is called Poetic by Highland Handmades.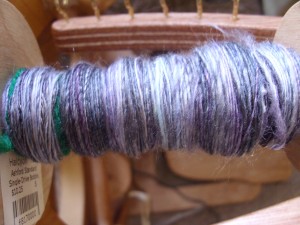 The fiber is spinning pretty fine the singles are between lace-weight and Lt. fingering I think. It is a superwash merino/tencel blend. I wonder how many yards I will have after plying.
Tags: angora, angora rabbit fiber, animal rescue, animals rescue maine, fiber animals, fiber processing, knitting, knitting patterns, knitting projects, raising fiber animals, spinning, spinning fiber roving, spinning fleece, spinning wool by hand, wool for spinning, wool for spinning for sale, wool for spinning yarn, wool processing