Right now the farm is home to 11 rabbits. I thought I would introduce to our fuzzy faced members.
The oldest members of my Farm are Little Girl(LG), Blue , and Kali.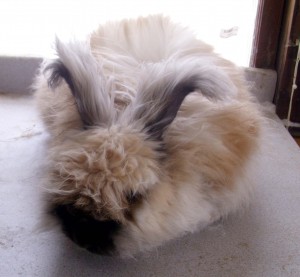 Little Girl is a tort english-french mix as far as I can tell, she has no pedigree.  Her personality is fiesty yet sweet.  She pings like a bouncy ball when we put her in the bunny run. In the spring and summer I put the bunnyrun outside in the shade so they can eat grass and dig.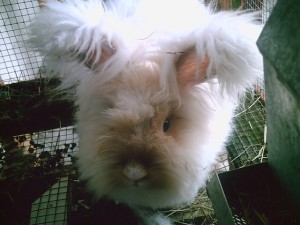 Kali was one of my first rescues she is full english and came with a pedigree. She is just lovable and will let you rub and trim her tummy with ease. I think she always had to share a home before so she became rather protective of her cage for awhile. I think once she go used to us and the fact that she always went back into her cage, she seemed to calm down.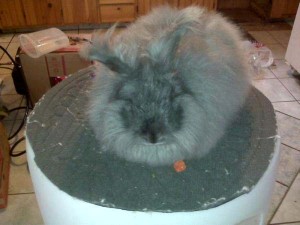 This is Blue and he is a blue colored bunny. I believe he is also a french/english mix.  He is fiestier than the rest of buns. In fact we think he only likes me. He tries to climb up on me when I'm grooming him.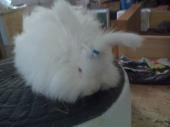 Adony is my little sweetheart. He just curious and lovable always shoving his nose somewhere. Adony is an English Angora He has lovely fiber and a wonderful personality. He makes me laugh. Sorry about the blurry pic we just finished grooming and he did not want to be still any longer.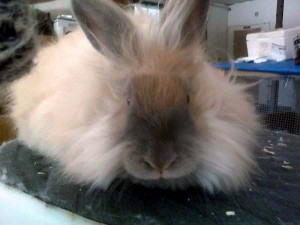 Aerona or Roni for short is funny girl. She's a bit larger than the rest of the buns. Roni is a blue tort and is an english/french mix. She loooooves her treats and is constantly looking for them.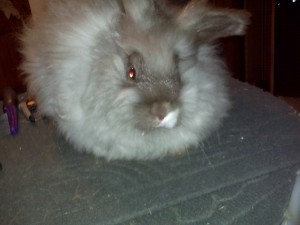 Cocoa is my only chocolate color rabbit. She is an English Angora. She has a more reserved personality than the other buns. She's the quiet one.  Sometimes I think she just tolerates us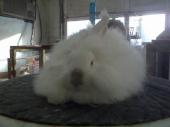 This is Cornelius. He is an english/french mix. The coloring he has is called pointed white.  I love his blue tips on his nose,ears and tail.  Cornelius is took a bit longer than the others to warm up to us but has become a bit of a cuddlebug.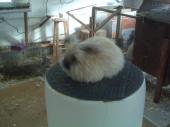 Ceasar is beautiful english/french mix. He is a blue tort. He will be the first to let you know when he has had enough grooming. He is always waiting for treats when someone walks into the barn.
Camelot is an english/french mix. He is also a blue tort. Camelot is very shy. We are gently bringing him out of is shell. I can wait to see is full personality emerge.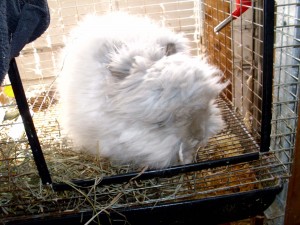 One of our newest members Teddy. Teddy is an English angora with agouti coloring. He is an attention monger and does anything to make you notice him. He loves to cuddle and is quite content to stay in your lap.
Last but certainly not least is Bella. She is an English angora . She's quiet but very sweet and loves to be held and petted. Bella is an agouti color. I just adore the spot on her nose.
Tags: angora, angora fiber for sale, angora fiber price, angora rabbit fiber, angora rabbits, animal rescue, animals rescue maine, fiber animal, fiber animal products, fiber animals, raising fiber animals