I wanted to talk about what an alpaca is. I've noticed that some people don't know anything about what kind of animal an alpaca is and <Gasp> never heard of using the fiber.
The alpaca is part of the camelid family. Some of it's relatives are camels, llamas, vicunas, and guanacos. Vicunas are the wild ancestors of alpacas and guanacos are the ancestors of llamas. Vicunas are Peru's national heritage species so hunting is strickly forbidden , however in 1987  natives (who were granted ownership of the nation's vicunas) were allowed to capture, shear, and release these wild animals. They use a ceremony called Los Chacos. Hundreds of people form a human chain to herd the vicunas into temporary corrals where they are shorn. This takes place every 2 yrs.  I like the thought of a human herding chain versus using dogs and 3 wheelers.
    There are 2 types of alpaca the huacaya and the suri.  I've rescued both types but only have suris on the farm now. They are different in size by a bit the huacaya seems to be a bit larger and weigh a bit more. It also just may look that way because huacaya fiber is very different than suri fiber. Huacaya fiber reminds me of wools puffiness as it seems to just puff out from the body. Suri fiber is more like locks of hair that hang down and it has a bit of sheen to it.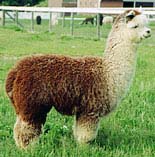 Huacaya Alpaca
I've noticed people often mix up alpacas and llamas. Although they are close cousins there are some big differences between the two. The llama is much taller than the alpaca reaching 4 to 4.5 feet at the shoulder, alpacas are typically 3 ft.  LLamas weight from 250-500 pds, alpacas only weight from 120-225. Mine are around the 150pd range.  The fiber varies greatly with llamas I've used llama fleece and I've has some rough as jute and others softer than the finest merino. Alpaca fiber ranges in the 15-28 micron range. One quick way to tell if it's an alpaca or a llama is to look at the ears. LLamas have long, banana-shaped ears if you look at them from the front. Alpacas have shorter spear-shaped ears.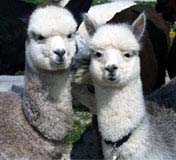 Alpaca    Alpacas and llamas are modified ruminants they have 3 stomachs they do "chew a cud." They also have a soft-foot with a tonail that makes they very easy on the land compared to hooved animals. I have to say they are very neat and tidy animals they have a community dung pile which makes cleaning up easier. I've noticed that some the goats herding with my alpacas are following in suit. I also get the question of the animals spitting. Alpacas and Llamas do spit. They have 3 ways of spitting. In my experience, I've only been spit at once or twice and it was mainly a puff of air. They seem to save the worst spitting for each other when they are having a dispute.
Tags: alpaca, alpaca fiber, animal rescue, animals rescue maine, fiber animals, guanaco, huacaya, huacaya alpaca, llama, raising fiber animals, suri, suri alpaca, vicuna