As the christmas knitting season is over I've been knitting more for me. Yes, I'm doing some selfish knitting.  Right after I finished my christmas knitting I made a poncho I've been wanting for awhile. Something to wear as I sit at the computer as I have a tendency to get a bit chilled. The pattern is the Falling Leaves Poncho by Elizabeth Dallinger it's a free pattern on Ravelry. I had exactly 500 yards of Tahki Yarns Donegal Bulky Tweed. So I grabbed my needles and got to work. I found the pattern to be a bit different as it had some abbreivations I had not used before and the format it was written in wasn't what I was used too.  I did make some mistakes on this project. By the time I finished , I was able to figure it out and see it coming together.  I am going to make another one of these.
I have also finished a the test knit for my friend the Michelle Miller aka FickleKnitter on Ravelry.  She is an amazing person with a wonderfully creative mind. Here is her  Green Gauntlet and Scarf Set  . The pattern is available for purchase on Ravelry.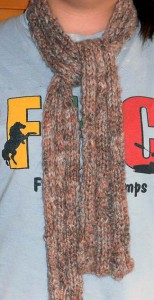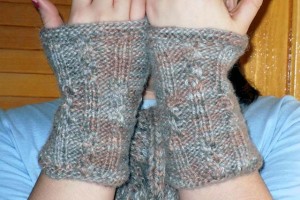 I've started work on a sweater. The pattern is from Deborah Bergman's book The Knitting Goddess. It calls for changing yarns every 2 or 3 rows. I am using some lionbrand homespun in 3 different colorways and marrying them together with a strand on grey mohair.
This sweater is knitted in pieces so I will be learning how to seam an entire sweater. I've done small seams but never anything as large as this. Hopefully, all will go well.
I've done some spinning this week. I was afraid the colors would muddy but it came out beautiful as you can see.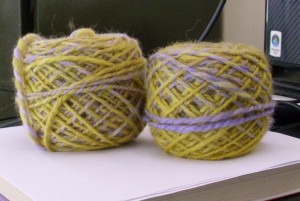 Tags: knitting patterns, knitting projects, roving wool, spinning fiber roving, spinning wool by hand, spinning yarn, spinning yarn blog